You can enjoy a pleasant vacation in Isla Colon which will offer you endless activities to make the most of the exotic places it has to offer. this island is the one with the most population in Bocas del Toro. So, most hotels, restaurants, bars, agencies that offer tours located in Bocas Town on the island colon.
It is also the place of arrival of the great majority of tourists and locals who come wishing to know the natural beauty in Bocas del Toro.
Activities offered by Isla Colon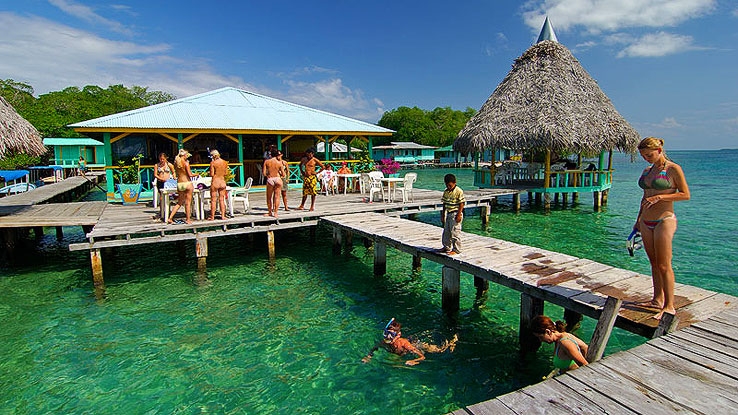 This interesting tropical environment invites you to have some bike rides, observe landscapes, practice some water sports and enjoy bathing in its beautiful crystalline waters.
This island has its own airport which will receive you if you catch a plan from Panama City or a ferry that will take you to the dock located in Almirante.
This island has many tourist attractions, for example the architecture of the area is the first thing that will call your attention because it represents an essential part of the local culture. You can find forests, rivers, and the characteristic fauna and flora that prevail in the region. When walking along the coasts you will also observe its coral reefs, mangroves, rock formations, and its beautiful beaches and sea birds.
The best beaches are in Isla Colon
We have a beach for every personality and the tastes of our visitors. The most visited beaches that you can find on this island are: Playa Estrella, Cayo Zapatilla and Playa Red Frog, which are very visited thank to the wide range of activities that you can do there.
As some beaches are quieter, they offer a more relaxed environment. People, who prefer surfing or snorkeling, will go to other beaches with a more spirit. There is also a beach for those innate naturalists who will find very entertaining the diversity of marine species, mammals that live in the area, and the variety of trees and animals.
The Red Frog Beach is more sophisticated shore with chairs and tables for the comfort of the visitor. if you want to enjoy this beach, you must walk along a beautiful path surrounded by nature and if you are lucky you will see the red frog that gave the characteristic name of this beach.
Regarding lodgings and restaurants, this island has a variety so you can choose between the one you like most to enjoy the local cuisine and the best places to rest. What are you waiting for? Visit this island and share your experience with us.