Bibi's on the Beach Restaurant – Surfside Seafood
This is way more than a beautiful restaurant that gives you the feeling of being on a boat, just over the calm and crystal clear waters of Isla Carenero on a kind of palafito (indigenous dwelling on the sea), with wonderful views.
Bibi's on the Beach is one of the most majestic places in all of Bocas del Toro, and there are quite a lot fascinating places.
Beautiful coconut palms, the refreshing ocean breeze, and waves of the sea harmonize a true delight for your ears.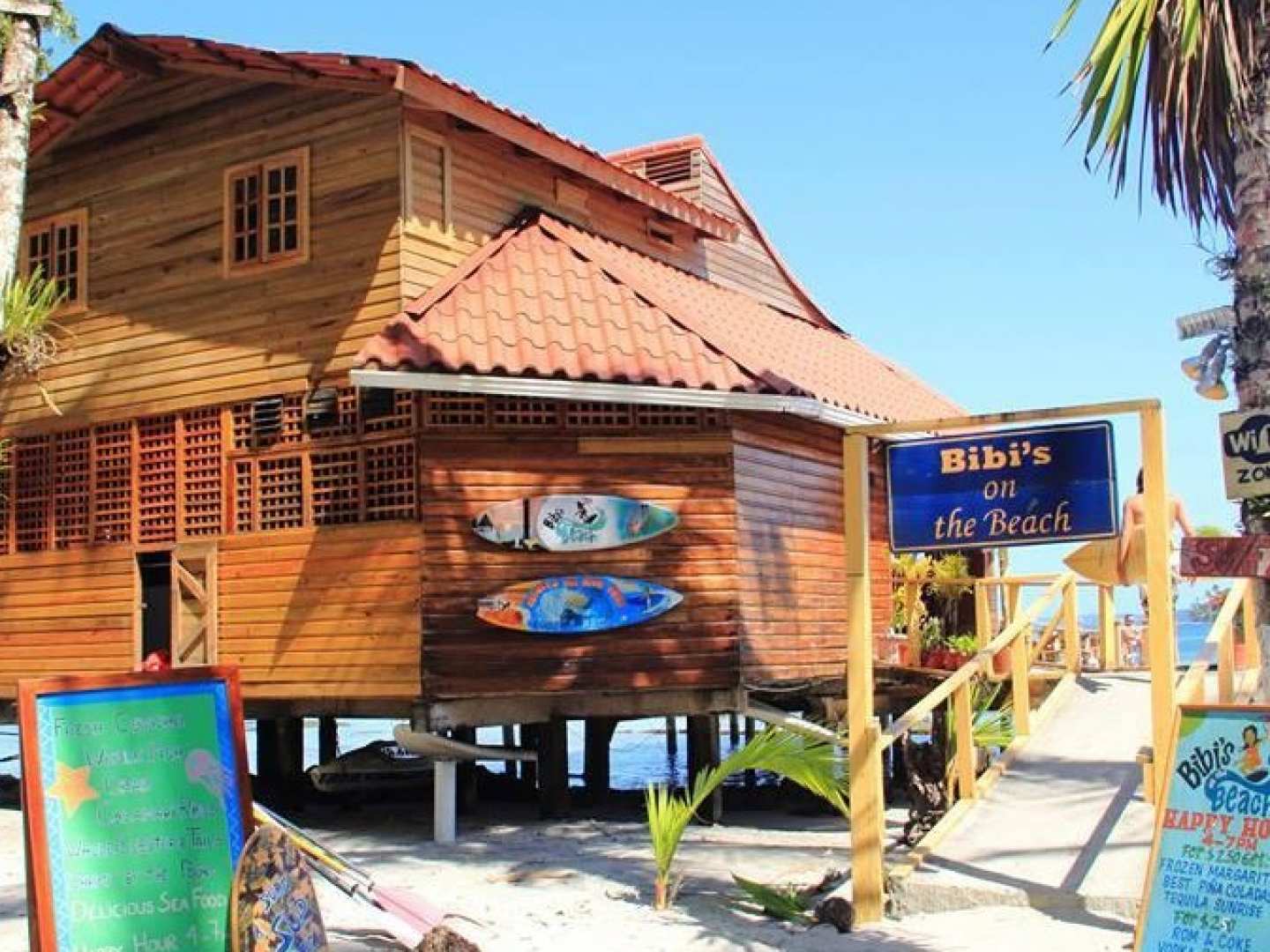 Not only it stands out for the delicacies of its dishes of ingredients fresh from the sea, but also provides aquatic activities on site.
Feel with your imagination any of the following works of art of Caribbean cuisine in Panama.
Taste all this and more:
• Ceviche Bibis (Needless to say, it's the specialty of the house)
• Lobster baskets
• Variety of seafood and fish. Depending on the day's catch, which ensures the freshness and quality of your dishes.
• Fabulous cocktails, prepared with some seasonal fruit such as passion fruit, pineapple and even the coconut cream of their palm trees in a delicious pina colada.
• Meats
• Pasta
• Sandwich
• Salads
• Breakfast lunch dinner
• Coffee
• Drinks.
• Happy Hour 4:00 p.m. – 7:00 p.m. (Everyday)
Whether you are staying in Isla Carenero or you are just passing by, you must indulge with one of its exquisite menus, drinks, and desserts and also enjoy one of its many attractions or water activities:
• Diving
• Surf
• Stand up paddle sup.
• Pedal boats
• Kayak
Bibi's On The Beach is four words that summarize what Bocas del Toro means: beauty, gastronomic flavor and fun in one place
Prices: The price range is quite accessible and can go from just 5 dollars to up to 25 dollars. For now, they only accept cash, you can still contact them near your scheduled travel date, to find out if the payment method has changed at that moment.
Where is Bibi's On The Beach?
Address: Careneros Island, Bocas del Toro Archipelago. Panama
Phone: (507) 757-9137
Schedule: Wednesday – Monday 8:00 a.m. – 9:00 pm.
The schedule tends to vary according to the season, in case you go in the offseason, you should know that Bibi`s is open to the public from Monday to Sunday, except on Tuesdays that only serves breakfast. While in high season if open every day of the week, throughout the day.
Facebook: Bibis-on-the-Beach
Web: www.bibisonthebeach.com