Café del Mar – Café – Restaurant
Bocas del Toro is one of the places most desired by tourists from all over the world, of all tastes and social strata. The truth is that Panama is a unique tropical paradise and is here in America. Bocas del Toro is one of its most beautiful and exuberant provinces because it has a fascinating archipelago of large islands and hundreds of small islands.
Restaurants at measures up to the size of their visitors and are decorated to receive them with all the love, hospitality and good service that characterizes the Panamanian, not to mention the delicious food they prepare.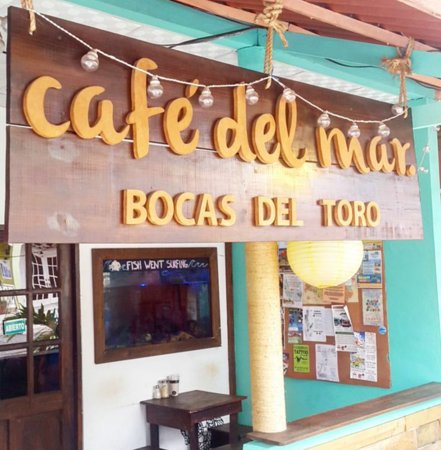 Café del Mar is a small and cozy restaurant, located in the heart of the town of Bocas, on Isla Colon, the most populated and civilized island of the archipelago.
In Café del Mar they are prepared from very early in the morning, to welcome you with a delicious coffee with breakfast included, perhaps an appetizing Burrito, an Omelet of Spinach or Caribbean and even some spongy blueberry Pancakes. One thing is for sure you will have quality food at very good prices.
In Café del Mar you will find delicious delicacies to taste throughout the day:
Breakfast
Lunches
Dinners
Drinks, besides your delicious coffee, why not? A delicious wine and even a beer.
Sandwich, Hamburgers, etc.
Food for vegetarians
Amenities at Café del Mar
1. You can cancel with one of your credit cards like Visa or Master Card.
2. Takeaway service
3. Attentive and very cordial waiters.
4. Free wireless Internet (Wi-Fi)
5. Adequate facilities to receive people in wheelchairs.
It's got the comforts for each and every one of its clients.
You must visit this amazing venue. Not doing it would be a Tourist Sin! Even if you are just passing through Isla Colon or if you plan to stay on another island.
As they say there, the best perfumes come in a small bottle, applies to this restaurant, small in facilities but with a staff with a huge vocation of service willing to please their customers in the most fraternal way.
Recommended by those who have already had the pleasure of visiting them.
Contact them:
Address: Call e 1st, Town of Bocas, in front of the Tourism Authority and the Police Station, Isla Colon. Province of Bocas del Toro.
Telephone: (507) 6776-8858
Email: cafedelmarpty@gmail.com
Facebook: @cafedelmarbocasdeltoro (You can contact them through a message)
Shedule: Every day of the week 8:00 a.m. – 10:00 pm.