Isla de San Cristóbal, although it is not very visited by tourists, it has a beautiful marine fauna and paradisiac places that you must visit. You can also find indigenous.
You can find this island in the inner part of Almirante Bay. You can get to this wonderful place by taking a water taxi from the town of Bocas del Toro in Isla Colón. It does not have striking forests, but what makes it extraordinary is its marine environment that fascinates scuba divers and snorkel fans.
Popular by its reefs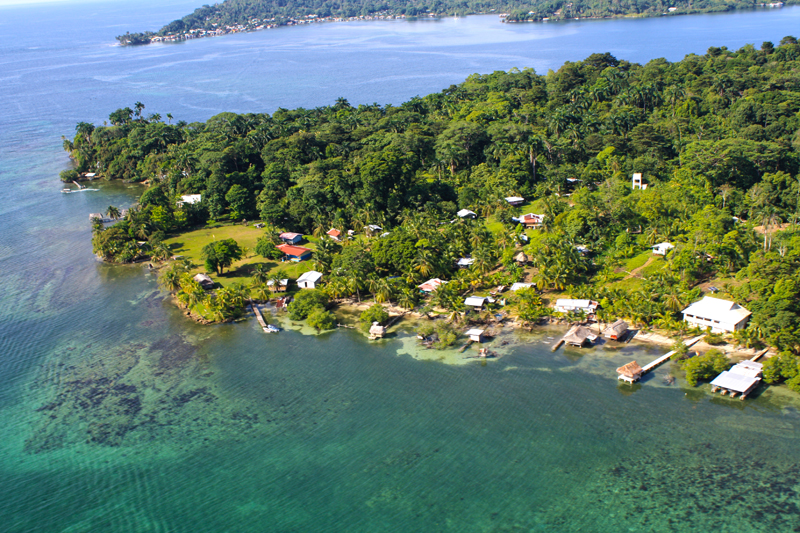 You will find the best reefs on the north side of this island. The most visited one is called La Luz de Cristobal (Cristobal's light) which received its name after the lamp that lit the way so that the boats could reach the port safely. There, you will also be able to observe plantations of bananas and boats near the place, taking them to other continents.
Play with the dolphins
One place you cannot skip visiting is the Dolphin Bay. As its name implies, here you can see different species of dolphins are together in one place. This is definitely something you have to see. This is the place where most kinds of dolphins concur in all the Boca del Toro Island.
Know the ethnic groups that live in Isla de San Cristóbal
If you decide to go away from the coasts to explore, you can find many secrets in the interior of Isla de San Cristóbal. Here you will meet 3 indigenous communities that are representative of this island: San Cristóbal, Bocatorito and Valle Escondido.
Among the services the communities of the town of San Cristóbal can enjoy are water, electricity, public telephone and a primary school. The indigenous communities that you locate here are dedicated to agriculture and fishing, which is a way of living they learnt from their ancestors. You will find out how the local indigenous people make their crafts.
One of the places you must visit is the island located in Bocatorito, since it has serene waters that are great to spend an afternoon chilling under the shade of a palm tree or looking at the cristal-clear lagoon formed by the labyrinth-like mangroves.
Despite the distance, it is worthy setting off to this destination because it is something you will not regret.
You have to see these enigmatic islands and share your opinion with us.