In the Bocas del Toro archipelago, in the province with the same name of Panama, you will find one of the most visited places by tourists around world where the merchants and restaurant owners compete to give you the best attention and the best and healthiest food with fresh local ingredients, say, fruits, vegetables, seafood and fish fresh from the ocean or farmed.
MK Restaurant is an excellent combination of Panamanian ingredients with French cuisine. This exquisite combination of flavors forms the union the European and Central American cultures. For many, this is the house of the best burger with fries from all over Bocas, for others the place where the most delicious crab is prepared.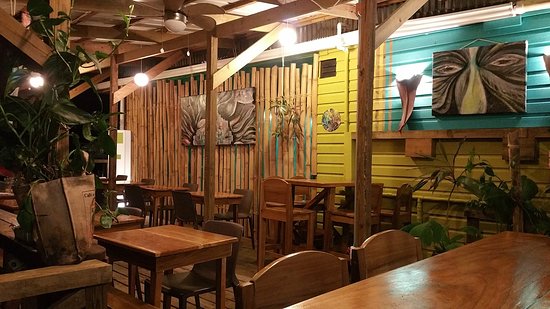 Attended by its owners, with all the love and good service that characterizes it, said by customers who speak wonders of the place.
Maybe it is not so easy to find it, because they do not any type of advertising, but they rely on the recognition and recommendation of those who visit the place. So just ask the locals for MK Restaurant, they will immediately tell you the place.
Surely you will notice that one of its owners are in the around inviting you to taste a delicious French – Caribbean food.
What does MK Restaurant offer you?
Not in vain Mk is one of the main restaurants in Bocas del Toro, renowned by relevant websites, and in Isla de Colon it is the heart of the archipelago, from which many activities arise:
Exquisite combination of French food with the seasoning of the Caribbean.
Breakfast
Lunch
Dinner.
First-class attention by its owners, French people who fell in love with the tasty Caribbean and could not return to their country, France.
Delicious desserts
Drinks, such as Beers and cocktails a la carte.
Multi kitchen.
Vegetarian food options.
Vegan food.
Free wireless internet. (Wi-Fi)
Outdoor seating, to enjoy the majestic panoramas that Bocas del Toro gives you.
Facilities for wheelchair access.
Excellent price-quality ratio.
Cash payment.
Contacts MK Restaurant
Make your reservation now for a romantic evening or a family dinner, for children there is also a place for fun and tasty food.
Address: 1st Street, Bocas Town, Isla Colón, Province of Bocas del Toro.
Phone: (507) 6377-1325 / 760-8144
Facebook: @mkrestaurante (You can leave a message if you wish)
Schedule: 7:30 a.m. – 11:00 p.m.